Updates on My Minimalist Path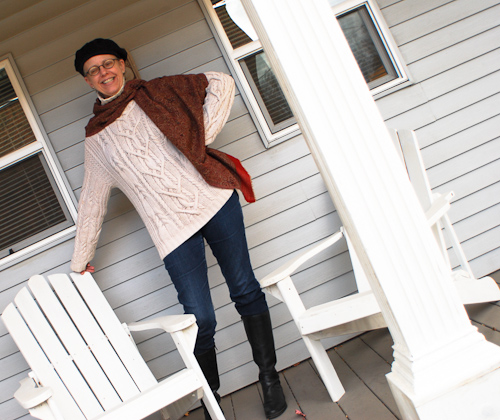 It seems like a good time to do a digest-style update of the various minimalism/simplicity projects I've been doing for a while:
Project 333: It's been over a month into Courtney Carver's Project 333, and so far so good. As I suspected, I miss wearing some of my simple, handmade "jewelry," but not much else, as I pretty much live in jeans and sweaters or tees. I know my life is easier thanks to wearing aprons for cooking and painting, so I don't spoil any of the selected clothes! We had our first bit of wintry weather yesterday, so I donned the jeans-tucked-in-boots and oversized fisherman's knit tunic combo. I've been wearing some version of this kind of outfit since I was in college, and sometimes wonder if I'll be able to wear it when I'm 80. Do women in their 80's wear skinny jeans? Should they?
No-poo: Tammy Strobel has the no-shampoo recipe here. It's also been over a month since I ditched the shampoo and started using just baking soda for washing my hair. The results have been pretty good, I have to admit. There's definitely less scalp itching, and definitely more body in my sadly thinning tresses. Baking soda can be drying, however, and now that it is colder outside I just use plain water to wash my hair on alternating days. It's still hard to get used to after 55 years of sudsy shampoo, but I like that it never burns when it gets in my eyes.
Going vegetarian: this one is hit-and-miss. I've got health reasons to give meatless meals a go, and Steve comes from a country where meat is served in slices as opposed to slabs (I quote him), so a big cutback on the meat was bound to happen sooner or later. The difficulty comes in changing habits, both physically and mentally, and the budgetary hit that comes with the trial and error of change. Last night we found a winner in Soy Curls, recommended to us by Christianna Pierce of elegant simple vegan. I used them in place of chicken in my Caribbean Chili and they were actually better than chicken! I'm going to do a post about them soon on The Minimalist Cook.
Counting things: this is not something I intended to do, but started doing naturally with Project 333. It dawned on me that if I just had 33 things for the winter months and 33 more for the warmer months (and it would be less than that because there's a lot of overlapping year-round stuff, like jeans and tees), I'd easily be able to do the 100 Things Challenge, providing that just meant personal items not used by others. For a former packrat in her mid-50's, surely this deserves a special commendation? This calls for a bar of fair-trade extra-dark chocolate!
Uncluttering: this one is definitely a major ongoing achievement, and I've posted the details frequently. I've still some books to donate to the library and a few boxes to go through with my son, but everything is quickly getting down to the essentials. Now it is time to tackle my parents' attic, starting with anything of my own that is still lurking up there. At the same time I am actually getting more creative work done, making me convinced that uncluttering leads to unblocking.
Blogging: so far so good. The next e-cookbook is in the planning stages and I'm in the concept stage for a Minimalist Woman ebook. I am just now considering doing guest posts as well as requesting them, to take things to the next stage, and at a natural pace. One can't have a centered life if the writing life is frenetic!
So do tell–how's your minimalist/simplicity path going these days?
Update on the Update: Above photo taken by my husband Steve Johnson, who stood in the rain to take this and made it possible for me to look non-scary in skinny jeans. Thanks, darling hubbins! 😀