New 72 Hour Book Sale; 23 Business Guides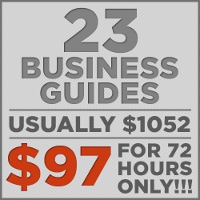 A couple of months ago Karol Gajda of Ridiculously Extraordinary fame, held a minimalism book sale. The idea was to offer a bundle of over a dozen books by different authors priced ridiculously cheaply. I was lucky enough to have my ebook Minimalist Cooking included in the bundle.
Karol is doing it again, only this time the subject is online business. This is a much larger package than the Minimalism one and includes hours of additional material such as video and audio. The cost of these items separately tops $1,000 and they are being offered for $97 – just under 10% of the original value.
Several of the authors are familiar to the minimalist community, Leo Babauta, Everett Bogue, Tammy Strobel, and of course Karol himself and probably need no further introduction from me!
As with the previous sale this one runs for three days only and ends at 10 AM on Dec 2nd 2010. If you are reading this the sale is already live and the clock is ticking.
Click here to view more details
Books and additional material included with this offer:
Unconventional Guide to Working For Yourself by Chris Guillebeau ($79)

(53-page PDF)
3 25-minute of audio teaching sessions
SEO Report (26-page PDF)
The Essential Motivation Handbook by Leo Babauta & Eric Hamm ($15)

(PDF)
True Strengths + The Metrics of Ease by Danielle LaPorte ($20)

Sample Chapter from the Fire Starter Sessions (PDF)
Video: The Metrics of Ease
Video: The Merits of Self-Centered
Worksheet: Passion Play
Worksheet: Very Strong Priorities
Upsell 101 by Naomi Dunford & Dave Navarro ($77)

Normally only available to buyers of How to Launch the S*%& Out of Your eBook
78-minute audio coaching session
11 Upsell Worksheets (PDF & DOC)
Websites That Sell Webinar by Laura Roeder ($47)

Normally available only to buyers of Zero to Website course
Special access to 1-hour Webinar
Guest Posting Guide by Chris Garrett ($17)

Special access to Guest Posting Info membership site
Downloadable Guest Posting Workbook (PDF)
"Kick start" video
Guest posting checklist and flowchart
3-Day Money by David Risley ($47)

14 Video presentations (2.5+ hours)
Full written transcripts for each lesson (PDF)
Audio files for each lesson (MP3)
Step-by-step Worksheet
Email Triage + 2011 Premium Planners by Charlie Gilkey ($32)

Email Triage (PDF)
Guided Audio Program (MP3)
2011 Premium Action Planners
2011 Premium Freelancer Planners
2011 Premium Blog Planners
Location Independent Lifestyle Guide by Lea Woodward ($37)

Location Independent Lifestyle Guide – 2nd Edition (82-page PDF)
Do-It-Yourself Design & Branding Guide for Bootstrapping Businesses (78-page PDF)
Zero to Business by Johnny B. Truant

Special membership to full Zero to Business course
30+ screen-capture tutorial videos
Step-by-step screenshot technical instruction
Write for the Web + Beyond Bricks and Mortar by James Chartrand ($54)

Write for the Web (89-page PDF)
Beyond Bricks and Mortar (47-page PDF)
Reclaim Your Dreams by Jonathan Mead ($47)

Reclaim Your Dreams – "Everything Package" (70-page PDF)
"I'm Serious About Action" Worksheets
How to Live Anywhere by Karol Gajda ($97)

How to Live Anywhere – Long Haul Edition (58-Page PDF)
Anatomy of a 4 Figure Affiliate Promotion (PDF)
10 Audio Interviews (MP3)
How To Live Anywhere Audio Series (8 MP3s)
"Create Freedom" Teleseminar (Video)
Minimalist Business by Everett Bogue ($47)

Minimalist Business – Upgraded "Minimalist Plan" Version (PDF)
30-Day Quick Start Guide
Affiliate Marketing for Beginners by Corbett Barr ($77)

Special access to Affiliate Marketing for Beginners – "Complete Course"
5 Core Teaching Modules
21 Affiliate Lessons
2 Profitable Case Studies
Beyond Blogging by Nathan Hangen ($47)

Beyond Blogging (200-page PDF)
15 Blogger Case Studies
"100k Blueprint" Summary
Smalltopia by Tammy Strobel ($27)

Smalltopia: A Practical Guide to Working for Yourself (156-page PDF)

Special access to Guest Post Secret membership site
3 core Guest Post training videos
Full transcripts for each video (PDF)
Email Scripts
Bonus Videos: Online Workshop Recording & How to Deal with Rejection
How to Network Fast by Jade Craven ($44)

The Guest Posting Mini-Guide (PDF)
The Twitter Mini-Guide (PDF)
The Blog Commenting Mini-Guide (PDF)
The Affiliate Mini-Guide (PDF)
Networking Awesomely by Colin Wright ($20)

(PDF)
Article Marketing Traffic Booster by Henri Junttila ($47)

(110 -page PDF)
6 How-to Videos
Bonus Audio Affiliate Interview
3 Content Worksheets
For anyone who is serious about making money on the internet, whether building the next Facebook or monetizing a blog, this is a great collection of books and really does cover all the bases and some.
Click here to view more details
In the interests of full disclosure I do get a percentage of sales from this site.
-Meg