Low Cost High Impact Photography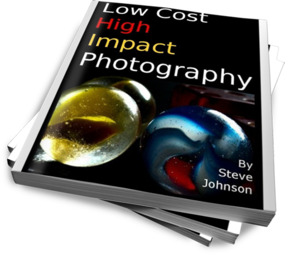 Here's something for anyone who wants to improve their photography skills. My husband, Steve, has written an ebook that aims to help people take really good photographs with an ordinary camera. He covers both the technical and the aesthetic side of the craft.
The book is called Low Cost High Impact Photography. It consists of 115 or so pages and roughly 100 photographs, the majority of which were taken with a basic point and shoot camera just to prove that the taking of a good photograph does not require hundreds of dollars' worth of equipment.
Steve is still looking for people to review the book so if you have a website to post a review, you can get a copy for free.
Another option is to sign up for his newsletter or email list – he has set things up to allow anyone who does this to purchase the book for $5. This offer is only valid until the 1st of March though.
The official launch date is the 8th of March and the launch price is $11.95
Steve takes all the photographs for this web site.
To find out more and download a 23 page sample of the book visit his website:
Minimalist Photography 101