Karol Gajda Re-Releases The Luxury of Less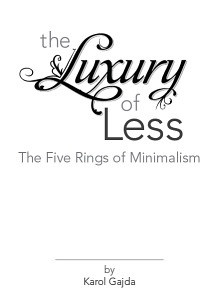 A few months ago minimalist business blogger Karol Gajda of Ridiculously Extraordinary got a bunch of minimalism writers together for a gnormous book sale and it was successful on all levels. Well-known writers like Leo Babauta got their books out to a new audience and to those who couldn't afford to buy individual ebooks, and newbies like myself got my book out to far more people than I dared to hope for in the space of three days. To top it all off, thousands and thousands of dollars were raised for the microloan nonprofit Kiva.org.
Karol's own book in the sale was The Luxury of Less, which was in a special PDF edition that he intended to put into print after the three-day sale, but the positive reader response to the book made him rethink this plan. I can understand the positive response.
Luxury of Less is not a counting-things book on minimalism, but much more philosophical. Karol puts a huge emphasis on health, both mental and physical, and he speaks from personal experience. Once that part of his life was on track, it gave him the energy to live an extraordinary life that isn't in the least bit ridiculous. From there he considers wealth, relationships, experiences, and what happens when you've been following the minimalist path enough for it to be second nature. He breaks each of the "Five Rings" of minimalism down into 30-day challenges, from drinking nothing but water to laying the groundwork for an epic adventure.
Karol's voice and vision is irresistible and inspiring, and I got as much out of it on a second reading as I did the first, even in spite of the fact that our lives couldn't be more different. I always feel a little less stuck in a rut after reading anything he writes, and he helps me see possibilities anew.
Starting today, Karol is re-releasing The Luxury of Less in PDF format for $9.99, and it comes with a money-back guarantee. Karol hopes that everyone who buys this book will pass it on to three friends and hopefully get 100,000 happy new readers.  Click here to view more details (affiliate link)