A Couple of Bright Spots in the Winter Days
Winter really can't end quickly enough. That old cabin fever/restlessness is kicking in and I want to see signs of life and growth and sunshine and smell things thawing out and waking up. Fortunately not everyone has been hibernating, and I want to mention two bloggers who have something special going on right this minute, things which really warm and brighten these wintry days:
Annie Brewer at annienygma has just given away her house to a homeless mom. Oh yes. For real. To me, it doesn't get much bigger than this. It's not like she's one of those "undercover millionaires" or something–the woman practically redefines frugality and fiscal independence. Annie's own personal survival story is achingly real and heartfelt. She just about had things the way she wanted them when life handed her another lemon. She's making lemonade out of it by paying forward the good stuff. Annie is full of no-nonsense wisdom borne of experience and a healthy dash of country living. She's an experienced computer geek and actually makes a living writing. Check out her collection of ebooks, too. I'm a particular fan of her Minimalist Cleaning Method (non-affiliate link).
elegant simple life is written by Christianna Pierce, a registered dietitian, and one of the most cheerful souls in the universe. Her blog is now back on schedule with the publication of her new ebook, Healthy Eating Rules (non-affiliate link), which is hands-down the simplest and most positive writing on the vegan diet that I've ever read.
Christianna takes the vast sea of nutritional information that's whirling around the universe and helps the reader make sense of it all. So much information that we look up is conflicting, and to have it sorted in such a clear and useful manner makes this book a real keeper. She gives us the skinny, as it were, on fat (including olive oil), nuts, cheese, meat, and most of all plants. Even if you are already following a vegan diet, the nutritional information presented in Healthy Eating Rules will help you eat still more mindfully and healthily. It even has charts you can print out, including a cool Food Pyramid.
The book is designed by Lynn Fang of Upcycled Love, and it is one of the most beautiful books I've ever seen.
Tanja from Minimalist Packrat bestowed The Stylish Blogger Award upon me and six other bloggers, an unexpected and flattering thing.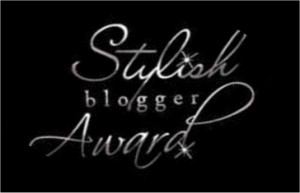 I tried to find the origins of this award, but it's one of those things that gets passed from one person to the next, much like a chain letter, except with no threats of calamity if you break the chain. I guess upon accepting this award I am to nominate seven other bloggers plus reveal seven things about myself that you are not likely to know.
I am a free spirit and break rules whenever possible, so the first thing I am going to do is nominate my entire blogroll, which you can see in the right-hand column on this page and scroll down a bit. There. That part's done. Yes, I know it's more than seven bloggers. And it's not even a complete list, because I add new ones fairly frequently and update about once per month.
As far as listing some things you might not know about me? Hmmmmm. I like my coffee black. My cat is sitting on my lap as I write this. I just finished knitting a pair of socks last night and I'm wearing them right now. All three are warm things that make me happy in the dark of winter ;D