Blog Photos and Low Cost, High Impact Photography
One of the things that makes this blog a little different than others is my choice of photos at the top of each post. Standard blogging advice encourages using stock photos with engaging, smiling faces or dreamy landscapes to draw the reader into the post. I do occasionally use landscapes, but the closest I've come to a smiling face is the accidental one formed by the arrangement of slots and knobs on a parking meter. This is not a happy-happy blog (aren't you glad!) so I never felt the need to sell a post with the image. I pick the image which shares the sensibility of my point of view. Thus the images you end up seeing are mostly gray scale, often abstract, and unwaveringly rich in mood, yet with room for personal interpretation.
The photos I've selected over the past year are by Steve Johnson, aka my husband, and the mastermind at Minimalist Photography. Today he launches his ebook Low Cost High Impact Photography,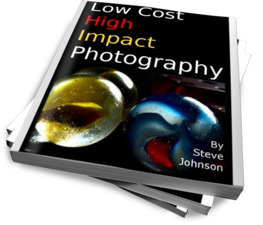 which is a warm and friendly yet detailed guide to capturing great images with a minimum amount of equipment. I've made no secret that we are pretty frugal around Chez Minimalist, but Steve in particular hasn't let that stop him from doing wonderfully creative work.
Low Cost High Impact Photography grew out of a series of how-to posts at his blog and in dialogue at other blogs. Steve has the knack of explaining technical things in ways that a non-techie can understand, and without being condescending. He starts out in true Minimalist fashion by calling out the photography industry on its fixation with expensive gear, from cameras to lenses, particularly when many solutions to a photographer's problems can be solved simply and inexpensively. To prove his point, most of the photographs in the book were taken with a basic point-and-shoot digital camera, and a few with a basic dSLR, with the minimum of extras.
Technical expertise alone does not guarantee a good photo, and the second half of the book focuses on aesthetics, covering composition, negative and positive space, and rethinking beauty. He is especially convincing when he does striking photos of things we would not ordinarily consider worthy of photographing, like a faucet or dirty snow, and thus encourages the reader toward his or her own experimentation with subject matter, composition, and point of view. The technical and the aesthetic overlap frequently throughout the book; it's the marriage of the two which make for the most satisfying images. A little tweaking with image software doesn't hurt, either.
Obviously this is an extremely biased review of Steve's book, but as someone who got a really lousy grade in Photography while pursuing an Art major and now just do Point and Pray with a digital camera, his explanation of how cameras and light and focus and f-stop works is the information I never knew I was missing. Then he takes a relatively dinky little camera and turns out art. If he didn't already have a massive library of images for me to choose from, I'd be out there taking them on my own–using his book!