Knitting, Meditation, and Breaking the Rules
Knitting is a nice way to soothe the twitchy soul. Once you know what stitch you're using and get a good rhythm going, it's meditative, calm and focused. Same with crocheting. The feel of the yarn through my fingers, the repetitive movement of the needles, the gradual growth of fabric into a sock or sweater or scarf or something larger is a metaphor for the rewards of patience and persistence. One stitch at a time….
Like other forms of meditation, knitting can work as a way to absorb information, to cope, to think quietly upon what is happening in the world, and to sort out mixed feelings. But sometimes it is just plain fun, and it doesn't always have to follow patterns or rules, either.
A year ago, when I was first working on this blog, I was also working through a 40-year collection of leftover yarn, turning it all into a crazy quilt/afghan via freeform knitting and crocheting. It started from a realization that I'd knitted myself into a corner with sweaters for everyone, and was also under a self-imposed No Shopping regimen. I love knitting in the winter, and missed having a project to work on (I'd just finished FOUR Einstein coats for Christmas!) and the yarn I had left over was either insufficient or uninspiring.
I decided to do one massive afghan out of it all, a sort of "automatic knitting" project without a pattern or a plan, other than to be somewhat rectangular in its finished shape. There would be no "wrong" element or "wrong" yarn, nor would there be "rows" or any sort of regular pattern. Each section would be whatever the spirit moved me to make as I went along. I even unraveled old sweaters that I'd knitted which either didn't fit or for some reason I didn't wear anymore, and used the yarn in the afghan. After three months or so of nightly knitting and crocheting, this is what I ended up with: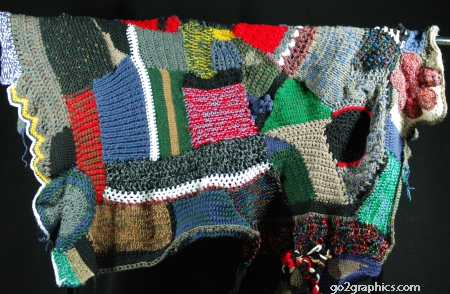 It's big, about 6′ x 5′. It's not all flat patches, either, with many areas that are ruffled, appliqued (crocheted flowers sewn onto knitted patches), and even one section that is woven of crocheted "warp" and "woof" strands. There's one section which was once a cover for a hot water bottle, one with yarn left over from my son's first pair of mittens, and a tiny little lavender-purple crocheted purse that I made when I was 15 (they were all the rage in 1970). There are also a few weird "squiggles" that snake out like tendrils, in a nod to modern fiber art. Some details: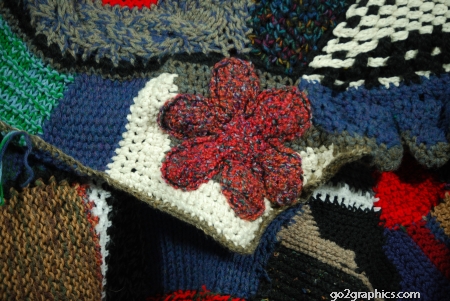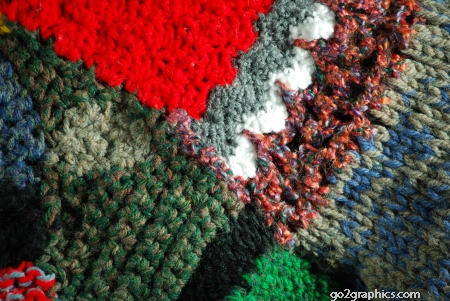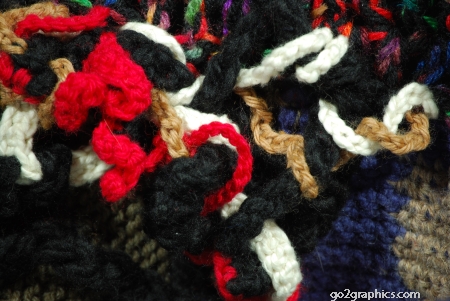 And of course I had to "sign" it somehow, with a little two-tone crochet: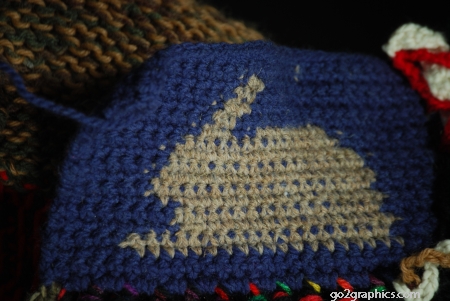 The photos are before I actually finished it, so there are a few more sections making the finished afghan more squared off. Anyway, it's been on the sofa all this winter, a bit of color in an otherwise black, white, and natural room. It's cozy and a conversation piece, and I love that it is completely and truly one of a kind.
This winter I knitted two pairs of "boot" socks, the big thick kind that let your toes wiggle and are meant to be worn when sliding across hardwood floors. They're made from this one giant skein of tan acrylic that  didn't find its way into the afghan. I think I got it as part of a bag of yarn at a church rummage sale for all of 25 cents. It will make several pairs, and I consider them free socks.
This past week I unraveled a sweater vest that just didn't look right and used the yarn to knit a shawl with a button to hold one end up at the shoulder, a bit like a Roman cloak. It's like having a short blanket that doesn't fall in the soup. Or the toilet. Oh, you know what I mean! But it was basically a rectangle, and there's nothing more meditative to knit than a rectangle.
So for the shawl I knitted in a buttonhole, right? Wrong. I screwed up but still had a buttonhole because the first ball of yarn ran out at the exact place where a buttonhole needed to go. By leaving sufficient ends of both the old and new balls of yarn, I was able to stretch the surrounding stitches sufficiently for a buttonhole, and use the yarn ends to sew a finished edge for the hole. Way easier, and my free "tip" to improve upon as you like 🙂
Now it is time for a cuppa tea before our weekly grocery expedition. Happy Friday!