A New Book of Fiction: Spirits of Place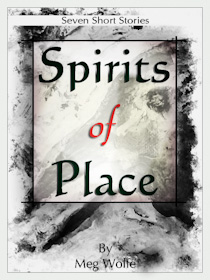 Well, I did it: Spirits of Place is my first little book of fiction, a collection of short-short stories. It is available for the Kindle (and you can get free Kindle-reading software on Amazon) for $.99, and will be free tomorrow (midnight tonight through midnight next).
I'd love it if you would take advantage of this and help me out with a review. There's more fiction on the way, but all you writers out there know that there's something special about getting that first book done. While it is fiction, I think regular readers of this blog will recognize the themes of sacred spaces, awareness of nature and life forces, personal boundaries, and the mix of beauty and bleakness in the Midwestern landscape.
Here's the description as it appears on Amazon:
Set in the near past and present, this collection of seven short-short stories and four paintings evokes the deep relationship between each narrator's identity and the places in which they live, to show—or imply—its effect upon the choices they make in their lives. In some stories, the choice is clear: the young narrator of Cathy Robinson chooses not to drown her playmate, and in Walpurgisnacht, the young-middle-aged narrator tries to help her best friend from college heal with a bonfire. The narrator of Macy grows aware of a garden's spirit of place, its genius loci, and in time becomes a real gardener, a "maker of Edens." The problematic relationships between fathers and daughters and husbands and wives weave through all the stories. Young narrators tell the funny/frightening Halloween tale in At the Crossroads, and the traumatic loss of a sacred space in The Firmament. Older narrators confront their bitterness at a loss of identity in Post-Op, and at the heartbreaking release from denial in Lease on Life.

From the Prologue through the stories and paintings, this small, 7,000-word debut collection of fiction can be experienced as a single narrative of different, yet shared, points of view.
This collection began late last summer as a project on Dan Goodwin's Coach Creative Space artists' support group, using the theme of The Four Seasons. I set myself the task of depicting a vision or sensibility of each season two ways, in flash fiction and in painting.  Since I had already started working out ideas for a novel, I thought they would make good starting points for different parts of the larger work.
The novel, however, has evolved into something quite different, which is fine, but these stories and some other writing closely connected to them were not likely to make it into the novel proper. There was definitely a shared sensibility running through them, however, so I rewrote and expanded the set to include three more stories and a prologue. Together with the four paintings from the original project, they make a stand-alone work. Each story is complete in itself, and yet form a larger story as a group.
I'm actually writing this the night before I'm posting it, while Steve wraps up the cover design and layout, and getting ready to upload it to Amazon. It was his idea to put together this book, closely seconded by my son, and I thank them both for getting me going on this. I also want to thank my friend and fellow blogger Willow, who gave it a reading over the weekend on rather short notice. I'm sitting here on the sofa with my cat, my knitting, several library books, a glass of water, and this laptop, deeply appreciating that I'm finally doing something I've wanted to do since I was in first grade–fifty years ago, come to think of it! The glass of water is due to become a glass of wine, I think ;D
Does a writer have a voice if no one reads? Thanks so much for being my reader, for giving my voice its life. -M.