About
The Minimalist Woman is written by Meg Wolfe, a true child of the Baby Boom who has downsized, decluttered, and otherwise simplified nearly every aspect of life in order to see life more clearly. What she found surprised her and this blog follows the course of those revelations, along with thoughts about the relationship of simplicity to American culture and economy.
A minimalist mindset affects nearly everything one can do, from how money is earned, to how it is spent, how much space is needed to be comfortable, how many things to own, how many activities to put on the daily calendar, what to eat, what to wear, and the size of one's ecological footprint. It changes the way we interact with the world at large.
The Minimalist Woman blog began on Blogspot in January 2010 as a way to document decluttering and lifestyle simplifying. It quickly gained a following, and was moved to it's own domain two months later. Likewise, the subject matter grew beyond decluttering to encompass thoughts on consumerism and its cultural impact, as well as the personal impact that results from coming to terms with it.
Meg was born and raised in Indiana, and still lives there, with a bit of traveling in between; she hopes to get back to England one day. She has observed American culture from the white-gloved 1950's through the days of social upheaval, disco and power suits, good economies and bad, and was politically active through much of it.  Along the way, Meg acquired degrees in English and Art, a Master's in Liberal Studies, and worked as a cook, writer, college instructor, choir accompanist, blueprint girl, slide librarian, graphic artist, housewife, artist, and owned and operated a landscape design firm, an art gallery, and a custom bakery/cookery.
Meg is the author of The Minimalist Woman's Guide to Having it All; a collection of posts from her blog, The Minimalist Woman; The Minimalist Cook: 27 Practical Recipes; and The Minimalist Cook 2: 27 more Practical Recipes.
Most recently, she is the author of Spirits of Place, her first collection of short-short stories.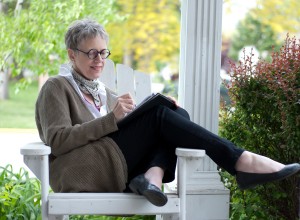 Meg is married to artist and photographer Steve Johnson, who provides the photos for her blog. She has one wonderful grown up son and a magnificent daughter-in-law.