The other day, my husband said, "You're really not a minimalist at all."
And he was entirely correct. I'm not. I'm not a natural-born minimalist in the least, and that's why minimalism is a "thing" for me, and so effective.
My basic nature has a huge appetite for stuff. I've always been vulnerable to acquiring new or better or prettier or more interesting things in my life, not so much for the sake of owning them, but because owning them was usually the only way to utilize them. As it did and probably still does to most Americans, earning money to spend money this way seemed perfectly normal. In the meantime, I kept old things because I'd often bring them back into rotation when I fancied a change or when there was a particular need for them. Or I'd keep them for sentimental reasons, or just-in-case reasons. That also seemed normal, even logical.
But when things changed, and earning money became hard, the spending was forced to stop. Suddenly, a lifelong way of being in the world could no longer be sustained. I could either feel demoralized, even trapped–or I could change my relationship to consumerism.
Seven years ago, I underwent a minimalist-driven purge and refocus that changed the way I lived, worked, and shopped. The end result was phenomenal, reining in my next-shiny-object attention span to zero in on writing four novels of over 100K words apiece. And it went a long way toward enabling me to live within my means and to live comfortably in a small house. In short, it made me happier and more productive. I felt more in control, which is a real luxury, and much freer.
The topic of freedom has been on my mind of late, thanks to participating in a philosophical discussion about an Albert Camus quote affixed to the wall of the local coffee shop:
The only way to deal with an unfree world is to become so absolutely free that your very existence is an act of rebellion.
Camus, of course, was an Existentialist philosopher who gave us the notion of the Absurd. For him, there was no intrinsic meaning to life–there is no purpose, divine or otherwise. Searching for meaning in religion was a cop-out. But so, too, was nihilism and committing suicide because of that lack of meaning. Instead, the greatest thing was to go on and live life as if there was meaning to it, despite the great Absurdity that there was no meaning to it. It was the ultimate way to rebel, and thus to be free.
The freedom comes from the sense of control over one's life choices, which in turn is possible because of one's awareness of the Absurd, rather than some tenuous belief in one's self or divine destiny. Toward this end, one is free to utilize constructs, such as learning a trade, or running for office, as long as one doesn't believe in them, or turn them into the meaning of life, or a religion.
Minimalism is one such construct. It has no objective existence, like a cat or a fish, but is constructed by the mind and experienced within the context of one's culture and society. This lends it well to individual interpretation. But I am far from the only one to say that it's an excellent way to achieve a sense of freedom in a consumerist culture, by giving us a way to reframe our relationship with what we own and why.
As a practice, minimalism helps us to stop believing in consumerism, that we can buy ourselves a meaning for our lives. This is the danger of the Kon-Mari decluttering method, in my opinion. It's still embedding meaning into our possessions. Now, this might work in Japan, where the culture is entwined with Taoism. But American culture is capitalism. Newer and better and bigger and shinier and trendier is our way of expressing to ourselves and others who we are and where we're at in life. It's the entire meaning of existence, the entire purpose for choosing our life's paths, for a vast number of people. When it's difficult to achieve, it's demoralizing, and freedom and happiness are elusive.
The Great Recession was a clarifying moment for many people, when the difficulty in achieving traditional material security turned out to be nearly insurmountable for everyone from Baby Boomers down to Millennials. We were, and for the most part still are, faced with the great Absurdity of Capitalism: working hard and following the rules of the game is the way to achieve financial security/happiness, but the rules don't actually exist, or are arbitrary, at best. There were no government regulation safety nets. God wasn't providing, or rewarding your hard work, either. You're on your own, pal.
Perhaps it was natural to downsize and start detaching from "stuff" at the same time that we detached from the above illusions, and reinvented our lives with reliable constructs, constructs that involved controlling our desires and how we spend our time. In essence, with minimalism, we can become so free, that our very existence is a rebellion against the snares of consumerism.
What do you do when you're committed to not buying stuff you don't need, but bit by bit you find you need different stuff? This is the situation that has gradually arisen over the past couple of years, as I began to have more and more difficulty handling my perfectly serviceable pots and pans.
I loved my old motley set, each one purchased individually between ten and fifteen years ago: professional-grade stainless steel skillet and saucepans, enameled cast-iron dutch oven, enamelware pots that could go from cooktop to oven, and a very large pasta/soup pot with strainer and steamer inserts that I used daily in my commercial cookery. I never had the desire for a matched set of pots and pans, nor did I care much about how they looked, just as long as they worked.
Then I started having days here and there when I'd nearly drop them from arthritic pain in my hands and arms, or even from just being tired. The occasional episodes became regular. I tried to switch hands, and that helped for about a month, then the other hand and arm caught up with the first. I wasn't in terrible shape–I was just using things that were no longer suitable for my age and the condition of my hands. The pans were too big and heavy, and the handles were too skinny.
It was time to do some in-store research, trying out various skillets for weight and ergonomics. None of the professional-grade ones were light enough, or affordable. There seemed to be a selection of mid-weight stainless steel pans that I could pick up and control. One brand in particular had ergonomic grips that were square and cushioned, which meant they wouldn't spin around in my hand when I tipped them to pour out the food or to wash them. I really liked the idea of no longer covering my countertops with more food than I managed to get into a serving bowl. I took pictures of the best possibilities (and their prices).
I got online and compared prices and reviews. The three pieces of cookware I needed most to replace were the large skillet, the dutch oven, and the supersize pasta pot. The other stuff could stand replacing, as well, but I was working in terms of priorities. The skillet with the nice non-twisty handles had a companion stock pot the right size–and lo and behold, it came in a set with two saucepans, two skillets, a stock pot, a saute pan, and a bunch of glass lids with easy-grip handles, all for only fifty dollars more than buying the two pieces alone. I could replace everything in one fell swoop.
Sigh. I was about to join the matched-set owners, I just knew it. But that was okay. The set arrived two days earlier than expected, and every piece was in perfect condition. I looked up at the shelf over the range hood, where the giant pasta pot has held court for the past six years. It would look bare up there once I moved it on out of my life. No it won't, said the part of me that was now the very proud owner of shiny new matching pots and pans for the first time since, well, ever. You can put up a pot rack. Like the ones you used to have at your last house, remember?
After splurging on the pots and pans–which, by the way, are an absolute dream to use–my budget wasn't going to extend to a pot rack that cost more than the cookware. It's definitely not that kind of kitchen. But I summoned up enough energy to turn several boards and couple of brackets into a fairly respectable pot rack, with a bit of my husband's sheer strength to screw it into the wall.
My inner shiny-pot-owner was right. It doesn't look bare up there any more. And cooking is a lot more fun again.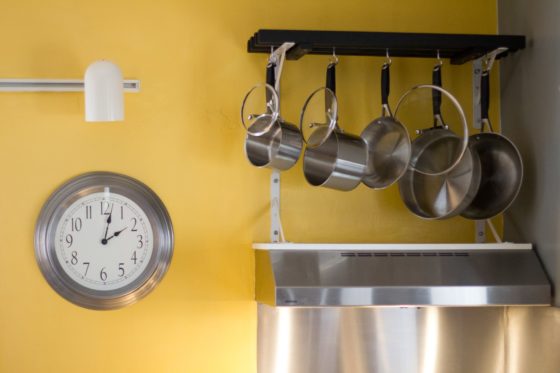 It's the end of January, and I can't let the month go by without a mention of my official word for the year, which I prefer over making resolutions. "Acceptance" can mean many things, ranging from near-resignation to near-nirvana, but I mean it simply as the Acceptance of things as they are–with the intent of still working toward what I want.
I've also written about this on my author blog, focusing on the way Acceptance impacts me in my working life. But it is a good word for one's personal life, too. Among the things I need to Accept is my age, and all the limitations that come with it. I'm in my sixties now, but I think that Acceptance could still apply to someone in their thirties and forties. Whatever age you are at, there are limitations, even if you aren't aware of them.
When I was in my late thirties, I saw some real differences between how I was then with how I was in my twenties, and I remember kicking myself for some stupid choices I'd made ten or fifteen years earlier, feeling that I'd be further along in life if I hadn't wasted so much time. Ten years after that, I knew exponentially more about life and the way the world works, and began to think of faster ways to make hay while the proverbial sun still shone. And ten years after that, in my late fifties, I realized that I was right about some things when I was in my late teens and early twenties, when my intuition was not yet tainted by the negative experiences that led to self-doubt. Never one to give up, I scrambled to get my life back on track, since now there wasn't a day to lose.
One thing I've heard a lot of people in late middle age say is that they still feel young inside their heads. I'm no exception–the still-youthful part of my mind thinks it's going to live forever. Maybe I'm more aware of limitations now because they are so darn obvious–the body isn't quite as dependable as it was, nor memory, nor sleep, nor stamina–but I'm just as ambitious as I was decades ago. My brain still thinks it's in its thirties. Until, that is, fatigue makes it come to a crashing halt. Stuff like that.
Spurred on by the illusions of Youthful Brain, I've always blasted against time, against fatigue and aches and pains, against personal problems and other limitations, as if I was pulling one big decades-long all-nighter in order to ace some kind of Exam of Life. Honestly, it's a bad habit to get into, and I really don't recommend it. I finally hit the wall and spent several weeks barely remembering how to do anything, like cooking simple things, what side of the hall the light switch was on, etc. The name of a close friend. The day of the week. Panic attacks set in over trivia. It took several more weeks to recover, and I still have to take things a bit easy.
I finally had to Accept that I literally can't do things like a twenty-something anymore, not without disastrous consequences that wouldn't be fair to my family, let alone to myself. See what I did there? This isn't coming from a lofty place, it's an admission that if I want to go through the Rest of My Life with a little bit of grace and style and self-preservation, I need to adopt a better M.O. I need to take charge and be a better parent/grandparent to the still-young part of my brain, and start working and living a little smarter.
Hello! Long time no see! It's been an intense fourteen months since I last posted here. The time away enabled me to concentrate on writing fiction and there are now four books in my Charlotte Anthony mystery series. But it is time for me to take a little break from fiction, to take stock of things, and rebooting my personal blog is a good fit.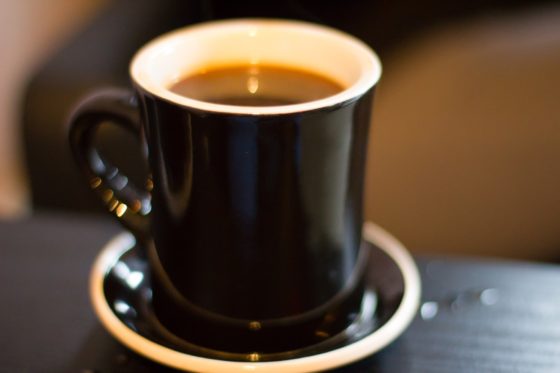 Now that I'm back, I've made some updates to this site that better reflect where I'm at in my life and work. It's simpler, for one thing. I've eliminated the Mindful Shopper page and other links because Google does a better job. I've updated my About page and my Contact email. Among the projects I'm tackling during my fiction-writing break is the marketing side of things, setting up ways to let more people know about my books.  One of best ways is an email list, and if you're interested, the signup form is on the sidebar, under my new mug shot. (Yeah, I've gone back to wearing contact lenses and using reading glasses.) Everybody who signs up gets a free Charlotte Anthony short story. It's early days for this effort, but one of the decisions I've made is to keep my first mystery, An Uncollected Death, at 99 cents. The book graphic in the sidebar will take you to my Amazon page and all its goodies. Read more »
Update, 1/18/2017: I'm back! Check out Rebooting the Blog 🙂
It's been quiet around this blog, but a lot has been happening in both my writing life and my personal life, and just about all of it is good. The third book in my Charlotte Anthony mystery series, An Undisclosed Vocation, is coming out later this month. I'm currently working on a novella for the series, as well.
It's been a lot of writing–a lot of work–and it's been incredibly satisfying and rewarding. In the next few weeks I'll be working with a marketer and developing my Modern Author chops in social media and on my writer platform and blog. These are the things that just about all authors need to do now, no matter if they are traditionally or self-published.
In light of this, I am consolidating my blogging efforts at my author site, megwolfe.com, for the next few months. Since my intent there is to relate to readers more than to guide other writers, I will blog about many of the same things I cover here, and more–observations about life, culture, and anything inspired by my research and experiences. And yes, even minimalism and simplicity.
If you have enjoyed my Minimalist Woman posts, come on over to megwolfe.com, where we can continue our conversation.
Hugs,
Meg