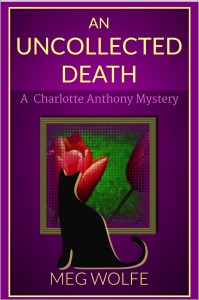 Just a quick note:
An Uncollected Death is now live on Amazon, and it's free today and tomorrow (March 1-2) for its inaugural weekend. The print version will be available in a week or two. If you enjoy it, leave a review!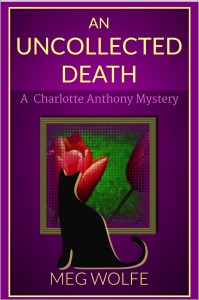 My first Charlotte Anthony mystery, An Uncollected Death, will be for sale on Amazon on Friday, February 28th. I'm taking requests for a free Review Copy until 9 pm CST on Thursday, February 27th, which will be available in  epub and PDF formats. The book will first be published digitally on KDP and priced at $4.99. Print and audio versions will follow. (And I just love the cover that Steve created!)
Is this book for you? It's a traditional/literary/cozy mystery. Minimalism, downsizing, and understanding the meaning of our stuff plays a role, too. Here's the official description:
Broke. Empty nest. Career and friends gone.

Charlotte's only ray of hope is a new job editing the notebooks of a mysterious author from the 1950′s, Olivia Bernadin, who was poised to rival the very best when she disappeared from public view for reasons unknown.

Finding Olivia battered and left for dead was not exactly what Charlotte expected her first day on the job. The editing project continues under the supervision of the author's sister, Helene, but Olivia has hidden the notebooks amid her hoard of collectibles with only cryptic clues as to their whereabouts.

Enter the only son and heir, Donovan, a nervous character who seems to have an agenda of his own. His machinations bring Charlotte far too close to the town's criminal undercurrent, who will stop at nothing—not even murder—to get their hands on a rare book rumored to be somewhere in Olivia's house.

Charlotte finds herself a suspect in Olivia's murder on one hand, and staving off financial disaster on the other. On top of all this, she has difficulty learning to trust her new acquaintances, as well as her growing feelings for Helene's friend Simon.

Solving Olivia's murder requires understanding what made her tick—and that means finding all the notebooks before Donovan has the estate hauled off to auction. As Charlotte perseveres in her search and studies the clues amid Olivia's collections, she uncovers a story that reaches from the French Resistance to the Vietnam War—and it hints at a shocking truth about a world-famous novel.

AN UNCOLLECTED DEATH is a book about a book about a book. It is also a story of life, death, and renewal in a small Midwestern college town.
In light of how indie publishing/branding works, I'm moving my writing-related posts to my other blog, megwolfe.com, and keeping this one for minimalism and related lifestyle posts. I've also set up a Facebook page. If it's your cuppa tea, I'd love to see you over there, too
Minimizing the grocery bill has been on my mind a lot the past couple of weeks. Here in the Midwest, it is not easy to eat well cheaply. In fact, since eliminating meat from the house and bringing more fresh veggies in, our grocery bill has gone up, and I've been looking for ways to get it back in line with the rest of our lifestyle.
The Gardener's Cottage has had an interesting series of posts on her grocery budget, and I'm still picking my jaw up off the floor after reading them. Evidently it is possible for two people (one man, one woman, middle-aged) in southern California to eat well for less than $90 per month. The dollar stores there actually carry fresh produce and other non-expired food. I feel like I'm on a remote outpost where anything other than the most synthetic frozen pizza is the equivalent of Cordon Bleu. It's a miracle if I spend less than $100 in a week, and I cook most of our meals from scratch.
Every few months I do an estimate of the grocery bill to see how we're doing. There have been times when money was tight (actually it's still pretty tight, but it was much worse back then) and those skimpy frozen pizzas and ramen noodles were regular items on the menu. Loaded with carbs, fat, salt, and additives substituting for nutrients, a week of that diet nowadays would kill me. But the grocery bill could clearly be improved. Maybe not southern California-improved, but certainly better than it has been. Read more »
Reading a novel series slows down time, I think, and that is a good thing the older one gets. When I follow a series about the same protagonist(s), whether in books or on television/video, something happens to catch me up out of my own life and place me amid another life with just the pertinent highlights. Perhaps that is why binge-watching entire 90-episode series via Netflix or another service is such fun, because it increases that sense of immersion in a time warp.
There are more novel series than there is time in my life to read them. I can read quickly, but I don't like to, not if the book is any good. Reading slowly enough to form a mental picture of what is happening, right down to the specifics and the emotions, is all part of the immersion process. It's like savoring every bite of a favorite dessert. In this way, reading is different than watching. When you watch a story, the tempo is controlled by the director, and the experience is fairly passive: you sit back and let it hit you. When you read a story, you are the director visualizing the author's script, picking out the bits that resonate, filling in the gaps in description, and choosing when to pause and pick up again–if at all.
I read mysteries, almost exclusively. There have been periods of my life where I read large amounts of nearly all kinds of fiction, from classics (English major, duh), translations of the great Russian and French novels, and most of the well-regarded 20th century novels through the 1980′s, including a rather lot of science fiction and fantasy. From the 90′s on I had very little time to read, and when I read, I wanted the coziness of traditional mysteries. Read more »
The minimalist lifestyle–scaling back nearly everything to just the essentials–has enabled me to pursue writing, and in particular to devote the past year and some months to learning the craft of writing a novel. One doesn't have to just write about minimalism to be a minimalist writer, or a minimalist anything else.
A crucial part of learning to write a novel is learning to be a novelist, something that a lot of people aren't aware of. Being a novelist is a mindset, and I will go so far as to say it is a lifestyle, because it has required rearranging priorities to put writing and writing-related time at the top of the list nearly every day. It also meant learning to compartmentalize unavoidable distractions, like grocery shopping, in order to be able to pick up where I left off at the computer. Having a minimalist lifestyle in place has made this so much easier.
You can't blame life for doing what life does, which is a universally-shared sentiment among minimalists. Instead, by having your own needs streamlined, you leave yourself less vulnerable to being thrown off track by whatever life does. Chief among those needs is sustainable income. Fewer expenses, smaller expenses, mean being able to get by on less income. A smaller house helps by being easier to maintain, as does an uncluttered house. Judiciously selected activities give back more than they take; here I think of all the novels I could have written in my life if I hadn't spent so many, many hours in recreational shopping and then maintaining and reorganizing all the stuff I bought. Instead, ventures to Chicago or Lake Michigan or visiting with friends and family are actually welcome, grounding me to the real world so that I don't get lost in the fictional world inside my head and computer screen.
Perhaps I have a keen awareness of this process because it's meant staying focused on one single project for longer than I've sustained for any other in my entire life. There was no getting bored with it all and wandering off to do something else. It remained fresh, from the day I set my mind to do it, to the present, where the second draft (108,000 words!) is with my beta readers. I'm even looking forward to starting the final draft in a week's time. If you want to read the first two chapters as they currently stand, I've got them up on the Novel Excerpt page.
"Write what you love" is another bit of good advice, and I've loved mysteries all my life, particularly traditional and cozy mysteries. The fact that I like knitting, gardening, cats, and cooking is probably a giveaway, as an awful lot of mystery writers and readers seem to share my affliction. But I do love character-driven plots, studies in motivation, and stories of interwoven lives, all told from a distinctly philosophical point of view, and never formulaic. Readers of this blog may find similarities in my fiction. Certainly I welcome feedback, and if you'd like to be on the current team of readers or want to get on the list for an Advance Review Copy when its ready, just let me know.
Publishing fiction these days means the author has to do the marketing, whether or not one goes with a traditional publisher. I'm curious about how you learn about new books and new authors. Do you have a favorite website or newsfeed, or some form of social media like a Facebook or Google+ group? I'm totally open to suggestions and recommendations on this, or other forms of outreach that are effective, but not abrasive.
Happy New Year! (Hey, my outdoor holiday lights are still up! Priorities, right?)